1. Delhi to Leh
Travel route: Delhi- – Chandigarh — Mandi – Kullu – Manali – Rohtang La – Kokhsar – Tandi – Keylong – Darcha – Sarchu – Pang – Upshi – Leh
Distance: 990 km
Time Estimation: 3 days
Tip: Make sure you fill up your tank at Tandi as the next petrol pump on the route is 365 km away. As the altitude increases after Sarcha, the road condition worsens. It's really an awesome route we've done it in fact when we started from pune to leh and back to pune by route with team @yeahhub.
2. Bangalore to Coorg
Travel Route: Bangalore – Bidadi – Ramanagaram – Chennapatna – Mandya – Srirangapatna – Mysore – Yelwal – Hunsur – Bylakuppe – Kushalnagara – Suntikoppa – Madikeri/Coorg.
Distance: 260 km
Time Estimation: 5 – 6 hours
Tip: Avoid entering Mysore City and escape the traffic by taking a bypass from Srirangapatna. Barring a 30 km stretch, just before reaching Coorg and the bypass, the road is in excellent condition. Monsoon season makes coorg more beautiful. You'll definitely enjoy this journey.
3.  Ahmedabad to Kutch
Travel route: Ahmedabad – Viramgam – Dhrangadhra – Halvad – Lakadia – Bhachau – Bhuj
Distance: 400 km
Time Estimation: 7 – 9 hours
Tip: Do visit Hodko village in Kutch to shop for some local handicrafts. We went last year and roads are so good you don't feel tired and Jalebi ganthia for breakfast every where keeps up your energy. Only toll takes up more time.
4. Mumbai to Goa
Travel route: Catch the NH 17 and its one beautiful road right up to Goa!
Distance: 615 km
Time Estimation: 10 – 12 hours
Tip: The roads are beautiful. All you do is look out of the window and be amazed by the picturesque views. Mumbai – Goa that too by NH-17(now NH-66), as enriched it is with natural beauty, equally damaged is the road. Nh-17 is for well experience drivers who have patience to drive on bad roads.
5. Chennai to Pondicherry
Distance: 160 km via ECR
Time Estimation: 3 – 4 hours
Tip: Tank up at Pondicherry and some save money on fuel! Awesome road trip from chennai to mahabalipuram. Now a whole town has developed along the road so you have to go into interiors to have that scenic feel like sand beaches.
6. Jaipur to Ranthambore
Travel route: Jaipur – Basi – Lalsot – Justana – Ranthambore
Distance: 180 km
Time Estimation: 4 – 5 hours
Tip: Preferably, take the route via Tonk. It takes more time but the roads on this route are in better condition.
7. Kolkata to Kumaon
Travel route: Kolkata – Durgapur – Varanasi – Allahabad – Kanpur – Pilibhit – Kumaon
Distance: 1300 km
Time Estimation: 4 days
Tip: If you plan to explore Binsar on the way, drive down from Almora towards Binsar where you will find a German Bakery on the main road. It serves delicious pizzas and 'thukpa'.
8. Chennai to Yelagiri
Travel route: Take the Pollamani Road out of the town to reach Pollamani Town. From Pollamani, take the Bangalore Highway to reach Vellore, which is 140 km from Chennai. From Vellore, continue towards Vaniyabadi and keep a lookout for the signboard pointing to Yelagiri. Take that road, cross Ponneri in between and reach Yelagiri Hills, about 22 km away.
Distance: 228 km
Time Estimation: 4 – 5 hours
Tip: Beware of rock falls as they are common during monsoon.
9.  Guwahati to Tawang
Travel route: Guwahati – Bomdilla – Tawang
Distance: 480 km
Time Estimation: 10 – 12 hours
Tip: While going to Tawang to Guwahati, go via Bomdilla. On the route there are number of roadside stalls that offer tea, momos and maggi. Make a halt at Bomdila or Dirang while going and enjoy the beauty upto Bumla beyond Twang near China border. Night halt at Tawang tourist or any other lodge, hotels. While coming back stay at Bhalukpong tourist bungalow near the river on Assam side. Made this trip atleast four times. Enjoyed everytime.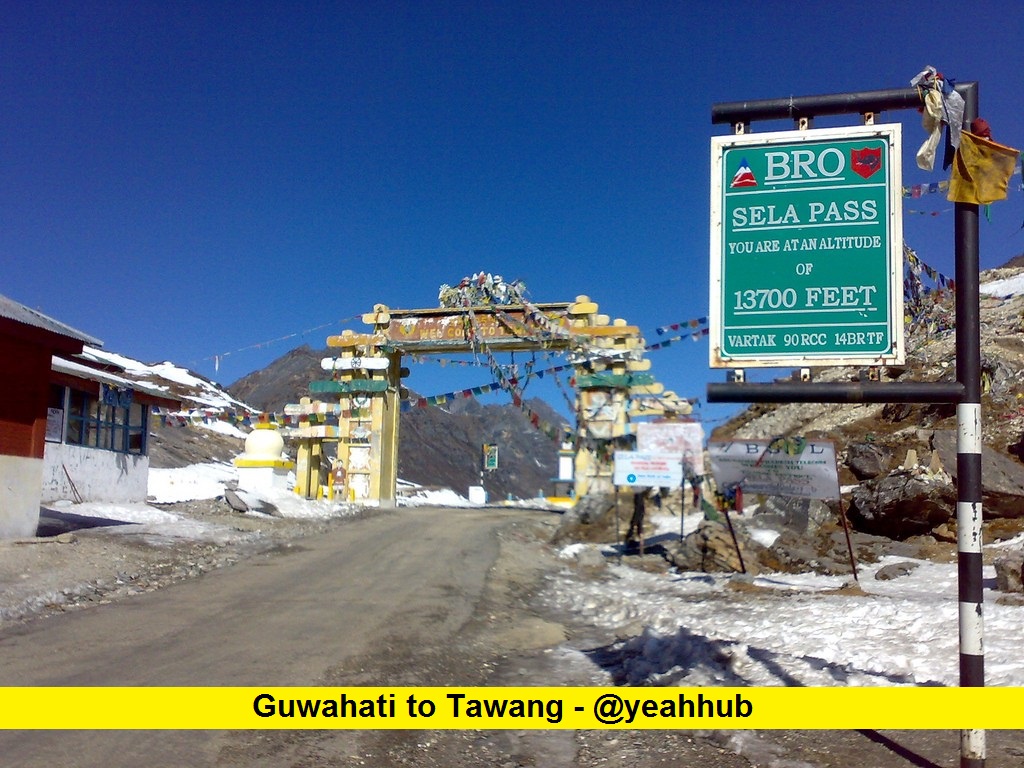 10. Jaipur to Jaisalmer
Travel route: Jaipur – Merta Road – Jodhpur – Mathaniya – Osiyan – Phalodi – Ramdevra – Pokaran – Lathi – Jaisalmer
Distance: 570 km
Time Estimation: 9 – 13 hours
Tip: Do make a pitstop at Kumbalgarh to visit the Kumbalgarh Fort and the Kumbalgarh Wildlife Sanctuary.
11. Mumbai to Tarkarli
Travel route: Mumbai – Lonavala – Kolhapur – Gaganbavada – Kasal – Malvan – Tarkarli
Distance: 535 km
Time Estimation: 9 – 12 hours
Tip: Take the NH 17 from Mumbai. At Kasal, take the SH 108 to reach Tarkarli. The route is scenic and worth the long drive.
12. Mumbai to Mount
Travel route: Mumbai – Palghar – Dahanu – Vapi – Valsad – Bharuch – Vadodara – Nadiad – Ahmedabad – Himmatnagar – Abu Road – Mount Abu
Distance: 745 km
Time Estimation: 12 – 15 hours
Tip: NH8 is a preferred route. There are several filling stations and dhabas en route.
13. Ahmedabad to Diu
Travel route: Ahmedabad – Bavla – Bagodra – Dholera – Bhavnagar – Tahaja – Mahuva – Diu
Distance: 380 km
Time Estimation: 8 – 10 hours
Tip: A pitstop at Dholavira is a must to explore the temple built by Swaminarayan.
14. Banglore To ooty
Travel Route: Bangalore – Kanakapura – Chamarajanagar – Gundlupet – Bandipur – Theppakadu – ( via Masinagudi or Gudalur ) – Ooty
Distance: 275 Kms
Time Estimation: 7 – 9 Hours
Tip: Safe driving on this way.