Feel like you're falling behind in dev and design?
Staying up to date with rapidly-evolving tech is hard.
The trick to keeping up and getting ahead, is knowing the right things to learn, and where to learn them.
Sitepoint is now offering Premium Package which is free of cost and is valid for one year which includes alot of things:
a) Free Access to all premium books (80+ Books)
b) Free Access to all premium courses (70+ Courses)
c) Free Access to all premium tutorials (300+ Tutorials)
d) Everything which they'll release in year 2017
Sitepoint Premium Books library contains all kind of books like Python, PHP, Ruby on Rails, Web Designing, Project Management and many more..
You can access Sitepoint premium from this link
But to grab this deal you have to purchase any web hosting package and they are also giving so much discounts on Web Hosting Packages nearly 65% off.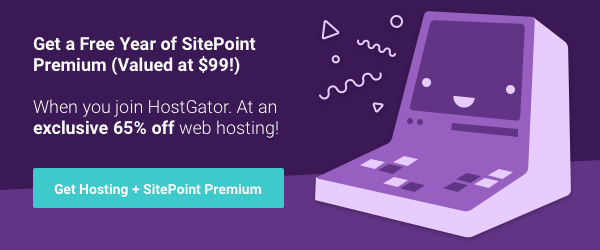 To claim this offer, please signup from this link and create a site ground web hosting account and you'll get instantly 65% off all hosting plans.
Siteground Hosting plans includes 3 packages basically:
1) StartUp (Starts from $3.95/mo)
2) GrowBig (Starts from $5.95/mo)
3) GoGeek (Starts from $10.45/mo)
Their hosting plans are so good that you don't need to worry about any speed or security issues. Along with all hosting plans, they are also offering FREE SSL of EncryptSSL company which makes your site more secure.
One of the awesome feature of Siteground hosting is that they takes daily backup of your site along with continuous malware monitoring service which is already integrated with their control panel.
This whole offer (65% off on Hosting plans + One year premium library offer) is only valid for first 120 Users and out of that so many users are already redeem this offer.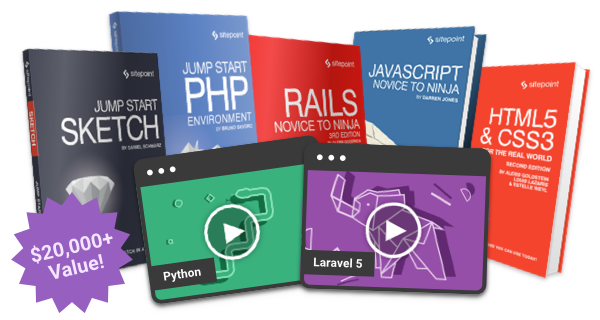 Once your hosting account got activated, you'll receive an confirmation email along with a voucher which you have to redeem from sitepoint website itself.
Last offer which they are also offering is FREE WEBSITE MIGRATION, so you don't worry about the downtime or how big your site is, just get any web hosting plan and grab all offers instantly by a single voucher.
This offer is valid for limited time as soon as all seats are filled up.
For all tutorials, you can visit this link which includes all tutorials which covers CPANEL, WordPress, Python, WHM, Magento, Joomla, Prestashop, PHP Nuke, phpBB, vTiger CRM etc
Here are the things which they are planning to launch in upcoming month which includes:
PHP and MySQL: Novice to Ninja [book]
Angular 2 [this month] [course]
Responsive Front End Development [this month] [course]
Angular 2: Novice to Ninja [book]
Building a WordPress Theme From Scratch [course]
JavaScript Master [book]
React Native [course]
Angular 4 [course]
Working with AWS [course]
JavaScript Algorithms and Data Structures [book]