Again EBAY is back with bang and now this time they are offering a very good offer for you people.
Last time they offered 16GB Pendrive at Rs 79 (Sandisk) but they are offering Rs 99 for Toshiba Hayabusa Pendrive with USB 2.0.
To Get this Pendrive, you have to go to this link and fill all the details and then you'll receive all the details in your cell number.
The original price for this Pendrive is Rs 315 which you can also buy from this link.
Step 1 – Click Here to go EBAY Offer Page (72% OFF)
Step 2 – Fill all the details which they asking like Your Email Address, Your 10 Digit Mobile Number and Your Pin Code.
You will receive your coupon code and activation instructions via SMS/Email on or before 28th September, 2016.
Offer valid on First Come First Serve basis only.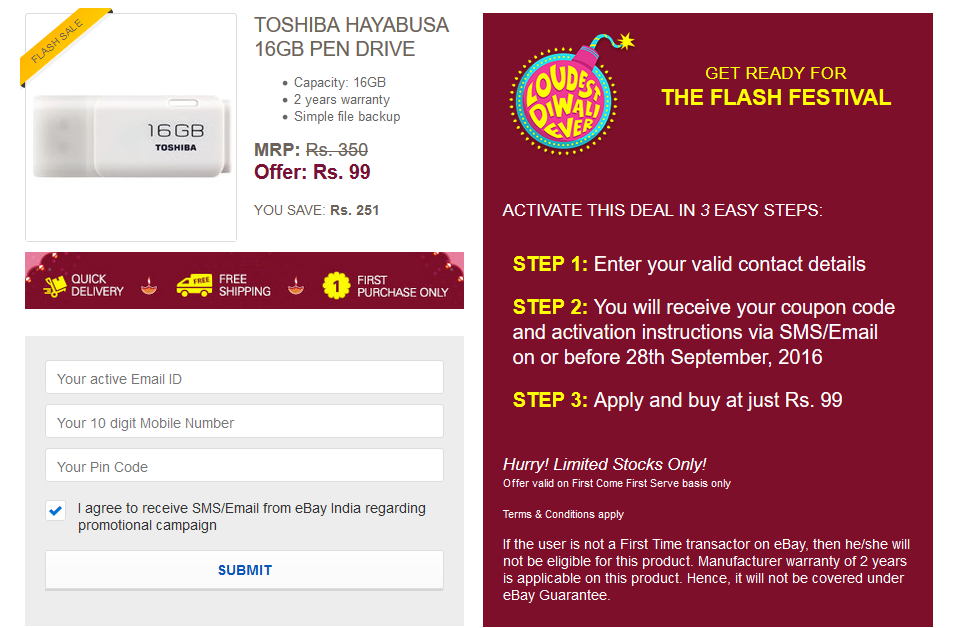 Note – If the user is not a First Time transactor on eBay, then he/she will not be eligible for this product. Manufacturer warranty of 2 years is applicable on this product. Hence, it will not be covered under eBay Guarantee.
GET READY FOR THE FLASH FESTIVAL