As you know in 2015, there are so many celebrities who gave birth to babies and now its 2016 year and here's the list of all celebrities who are expecting babies in this upcoming year 2016.
Let's start from "Anne Hathaway" – Anne Hathaway is an American Singer and Actress. She was born on 12 Nov 1982. She did so many stage performances but at 1999 year, she did first TV Serial named as "GET REAL". After that in 2001 year, she did one movie named as "The Princess Diaries". The popularity of Anne is defined by her Dramatic movies which she did in past like "Havoc" and "Brokeback Mountain". She also won so many awards for her performances.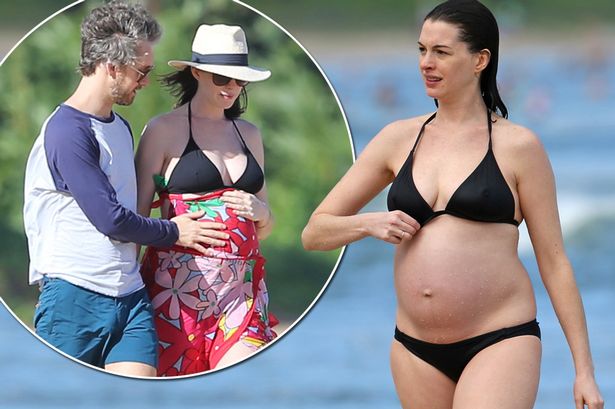 In 2004, She developed a Romantic Relationship with a real estate developer named as "Raffaello Follieri" but she ended this relationship in 2008. After that in 2008, she starts to dating actor "Adam Shulman" through Anne was engaged in year 2011 and were married on Sept 2012.
In November 2015, She announced that she was expecting their first child and now recently she shared one bikini picture on Instagram which clearly seems that she is PREGNANT.
Here's the full Instagram Message which she posted about her life and new year –
Happy 2016 to my beautiful Insta friends!

So, posting a bikini pic is a little out of character for me, but just now while I was at the beach I noticed I was being photographed. I figure if this kind of photo is going to be out in the world it should at least be an image that makes me happy (and be one that was taken with my consent. And with a filter 🙂

Wishing you love, light and blessings for the year ahead!
On the other hand, Ivanka Trump also expecting a baby. Ivanka Trump is an American Businesswoman, Former Model and Writer by profession. She was born in Manhattan. Her parents already divorced in year 1991 when she was only just 10 years old. She completed her Graduation from Choate Rosemary Hall in Walling ford, after that she spent two more years at Goeorge town Univ, then Univ of Pennsylvania. She also placed on Number "83" in Maxim Hot 100 show in 2007.
During College, she started his first relationship with "Greg Hirsch" in year 2001 but ended in 2005. After that she started his romantic journey with "James Bingo Gubelmann". in 2007, she finally started dating with a real estate developer named as "Jared Kushner" and finally she married on Oct 2009 and now they have two children's, one is son named as "Joseph Frederick Kushner" and a daughter named as "Arabella Rose Kushner" and now the shocking news is that in late Sept 2015, Ivanka announced her 3rd baby in early 2016 by means of sharing a Adorable Video on FACEBOOK.
Furthermore, Another American model named as "Christine Diane" alias "Chrissy" also expecting a baby in year 2016. By profession, she is also a American Model. She co-hosts some shows like "Lip Sync Battle" with LL COOL J on Spike TV. Chrissy was born in Delta, Utah. She was first discovered by a photographer while working in a surf shop. As the time goes, she represented worldwide by IMG Models in NEW YORK. In 2004, She became an IGN Babe. in 2007, she appeared on Cover of Maxim's calendar.
She first met with Musician "John Legend" on the set of his music Video for "Stereo" in 2007. After 4 years of dating, she  finally decided to engaged with John in December 2011 and they both married on Sept 2013in Como, Italy. In late Oct 2015, they announced her first expecting baby.