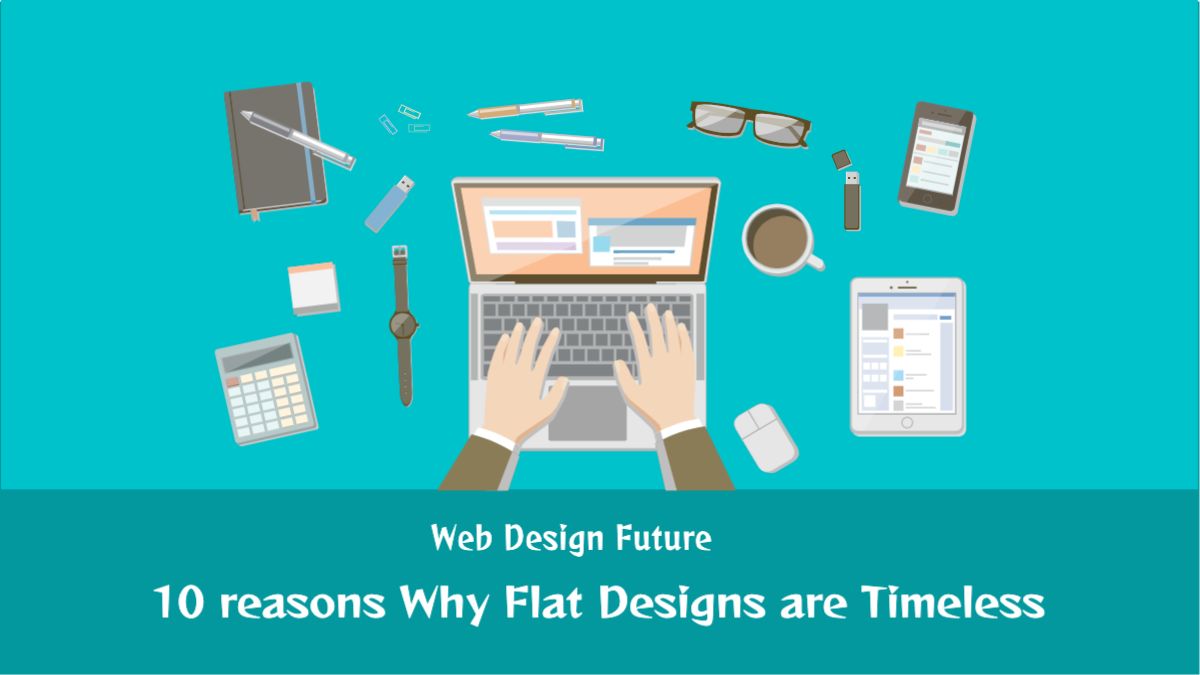 The Role of Flat Design in Web Design
Flat web design is a style of using simple 2D icons, vectors, illustrations, and other visualization with bright colors, as a replacement for skeuomorphism design. With the advent of our digital world, flat designs become more and more popular to help responsive designs work better across multiple devices and load more quickly at slow Internet speeds.
Flat design may seem like minimalism's more sophisticated and versatile cousin. Flat designs can manage a lot more complexity while still looking incredible when created within the constraints of simplicity. These designs have a crispness and clarity that can only be obtained by removing three-dimensional influences. In its essence, flat design has two primary objectives:
It embraces the limits of the screen and works within those parameters instead of trying to differentiate them.

Using this simplicity as a beginning point for streaming designs and making websites more functional and faster.
In terms of user experience, flat designs boost usability with their minimalist images which convey clear messages to users. Using bright colors with good contrast in flat designs also helps navigate or guide users better. Although some argue that flat designs are quite boring, flat designs bring more value beyond just aesthetics.
10 Reasons Why Flat Designs are Timeless in Web Design
One of the UI/UX industry's most well-known buzzwords at the moment is flat design. The popularity of flat design has increased recently, notably. These days, even the most prominent companies use this design strategy. What therefore explains its rising popularity? Simply told, it is effective. There are various reasons why flat designs are considered timeless in web design; in this article, we'll talk about that only:
Increases readability
One of the most essential things about flat design is readability. Flat designs allow viewers or possible customers to easily understand content with ease, regardless of whether they are using smartphone devices or desktops.
It substitutes complex graphics with simplified icons and vectors. Flat icons and their accompanying text make it easy for people to grasp concepts.
Furthermore, the flat design uses straightforward typography and san-serif fonts. Additionally, the text background typically has one contrasting color. Content takes center stage in flat design.
In flat design, the focus is content. With flat design, educating viewers or customers becomes a breeze. And, once users understand the brand and product better, they are more likely to convert into your customer.
Free of distractions/ minimalism
Minimalism is the key to flat web design. A flat design is free of decorations or other decorative features that don't add anything helpful to users. The goal is to direct visitors' attention to a flat design primary material. Giving priority to simple, undemanding and uncomplicated design interfaces and flat web design is free of distractions.
Furthermore, Flat web design requires a lot of white space. A flat design makes it easy to highlight and prioritize the content.
Decreases page-load time
Users skip websites and apps that take too long to load. Use flat web design or low-resolution photos and graphics if you are unable to reduce the amount of content you must display to your users while maintaining the speed of your website. Here, the flat web design seems like an obvious answer.
Websites with a flat design load more quickly than those that make extensive use of images and graphics. Flat design elements are less in size (in terms of files) as they do not contain gradients, serif fonts, or other skeuomorphic elements.
The flat web design embraces simple graphics and images, as said before. Furthermore, they offer web designers the opportunity to massively reduce file sizes, impacting the website's loading time. As we all know, fast loading betters user experience and enhances ranking in SERPs.
A website's bottom line will be affected by its quick loading time. It may boost website conversions and income.
SEO advantage
One of the essential parts of SEO for websites is page loading speed. Flat web design reduces website load times, which enhances their search engine ranks. Search engines give websites with flat design a higher ranking than those with graphic-heavy, slow web pages.
Factors like efficient mobile responsiveness, uncomplicated interface, and speed loading immensely improve a web design image not only in the eye of the viewer but also in the analysis of Google's web crawlers. Search engines rank websites that have websites that have a proven record of delivering excellent user experience.
It is developed that a website that has a flat design provides a great user experience. Therefore, higher SEO rankings are easier with a flat web design. Are you trying to create a new website or change your old one? It's an effective way to invest in flat web design and get guaranteed outcomes.
Websites with flat designs have a better possibility of ranking high in search engine results pages, which can attract users with high search intent. High-intent users are typically more likely to convert.
Up-to-date look
In just 50 milliseconds, a user's opinion of a website is formed! People who decide if they like a website have only spent 0.05 seconds on it. How does this operate? Users cannot possibly read through a website's material in that little time.
They review websites depending on how they appear and feel. When users visit a website, they examine the UI/design and make an opinion about it.
Websites that use flat design can assist their visitors in forming a positive first impression of them. The sleek, flat style positively impacts visitors whether they visit a website or an app.
Flat design is arguably the most popular web design trend right now. Giants of the web and mobile industry, like Google, Apple, Microsoft, etc., have accepted flat designs with a big smile. People can take this as a cue and set flat design as a benchmark for all the websites they will visit.
Simplicity
Nowadays, flat designs are widely used as the opposite of rich design due to their harmonic simplicity, i.e. is taken as the basis of this web design concept. Moreover, simple web design is more aesthetically pleasing and more accessible. Because flat designs are simple, it attracts more traffic. Users lead to less need for instruction and support.
Flat web design has adopted a simplistic way of design. It has eliminated specific time-consuming visual errors for the designer. For example, in flat web design, designers don't need to create and integrate different background textures and extremely comprehensive graphics and illustrations into web pages.
Moreover, flat web designs are quickly optimizable across all devices by giving prominence to simple, undemanding and uncomplicated design interfaces. Not only does this make the work of web designers a lot easier, but it also facilitates the launching of web pages and websites easily and quickly.
Compatibility
We are all aware that a website's responsiveness affects its effectiveness. How effectively does your website function on a mobile device? You may be sure the design will work efficiently on web and mobile devices using a flat design.
This is possible since both systems can easily support the grid-based layout and straightforward graphics. When switching platforms, the design is not affected. That is a significant plus for website responsiveness as well as for increasing website traffic.
Clear visual hierarchy through shapes, fonts, and colors
Flat design helps your customer understand and view web design content easily, regardless of whether they are using desktops or mobile devices( the screen size doesn't matter). It replaces complex images with simplified icons and vectors. This is why flat designs are timeless and popular trends right now in web design.
Flat web design uses bold, strict, clear, readable fonts, simple graphics and images that make it easier for the audience to understand and connect to the brand and product. The fonts are well tuned with a flat design to enhance the readability and visual aesthetics. Also, bright color palettes would be best with the minimalistic flat web design. Bold colors highlight the icons, giving a chance for a better user interface.
Bold and readable typography
It is essential that our site's typography is clear and is able to attract an audience just in one look. Too many words and using smaller size fonts might not be able to attract the audience as much as bigger size fonts do.
Flat web design is highly focused on creating bold, noticeable, clear text. Using color contrasts the highlight text parts is also easier. There are no visual distractions; making a flat web design or using web design software is ideal for designing landing pages with clear and prominent calls to action. With limited areas on the page, having text that 'pops out' establishes a better impact on the site's viewer or visitor.
Flat web design effectively uses color contrast and white space. Using bold, clear fonts on the design is also easy. This flat web design is also ideal for websites requiring sales; essential bits of text can easily be the center of the attraction on the page.
Close attention to Details
The flat design pays close attention to details that must be conveyed to your possible customers. This is why flat design is one of the reasons why it's getting popular.
5 Best Flat illustrations Resources
Are you looking for high-quality and free flat illustrations to make it more pleasing to your website design? Then don't you worry. In this article, we've mentioned some of the top websites providing flat illustrations that can be used in your website's design, etc.
illustAC
Are you in search of websites offering flat illustrations? If yes, then illustAC is the place to go. illustAC is a website offering numerous cost-free and high-quality flat illustrations and other vector graphics which can also be used for commercial purposes, including your personal goal.
Download limits: unlimited

download times for premium users – you can download as much as you want

License for commercial uses:

offer

Extra license

to cover the usage of the images as main element for product that will be sold to multiple clients

NO attribution required

 

Bulk download for premium users:

from search result pages, you can choose file types you like,  add them up to the download folder and download up to 10 files at a time. 

Download one format at a time:

Freepik and some other platforms will let you download all files in a pack. In many cases, it's not really necessary to download such heavy files. On illustAC, we can choose what types of file format you want to download. You DON'T need to unzip or check any licenses – SIMPLE and EASY in a single click.

Unique content:

illustAC offers various types of free vector graphics including icons,

flat illustrations

, etc. But the truly special one is that you can find real Japanese tastes here, from line drawings to unique Japanese backgrounds that you hardly see from anywhere else. 
Pixabay
Pixabay is one of the most popular significant illustrations search engines, hacking over two million copyright and royalty-free vector images. The website also hosts graphics from hundreds of other sites, so a great variety of stock graphics and illustrations exist.
The website's user interface is not complicated at all, and you can find anything according to your desire using the right keyword. Stock images offered by Pixabay are cost-free and can be used for commercial use.
UnDraw
UnDraw is another option for an endless selection of illustrations suited for a wide variety of content. Whether podcasting, branding, online transactions, data analysis, or app development, creator and founder Katerina Limpitsouni has covered you.
Illustrations offered in UnDraw are customizable. The vector graphics offered by UnDraw are all Scalable Vector Graphics(SVG), which means you can make them bigger, smaller, flip or mirror them according to your desire without losing their original quality.
Freepik
Freepik is another great search engine for free stock graphics and flat illustrations. The website contains thousands of cost-free vector graphics and flat illustrations, offering everything from greeting card templates to brochures. This website has a built-in template editor to customize templates according to your idea and content.
Flat illustrations and vector graphics offered by Freepik can be downloaded on various formats like AI, SVG, and EPS, appealing to your needs for flat illustrations. Moreover, vectors and illustrations on Freepik are open source and need no attribution for use.
Freepik is super user-friendly, requiring you to log in and create an account and go nuts with its stock graphics and flat illustrations for free downloads. Freepik's flat illustrations and other graphics are great for website design, infographics, etc.
Shutterstock
Shutterstock is one of the great sites when it comes to flat illustrations and vector databases. Though it seems a little old school, with over 50 million designs, you will surely find what you are looking for here. Shutterstock also offers free graphics and flat illustrations, and templates.
There are also numerous tools available on Shutterstock to make your designs, like file converter, Shutterstock editor, image resizer, and so on. Designs on Shutterstock are organized into topics and styles, so the user interface is easy to navigate and efficient on Shutterstock. This site's flat illustrations and other graphics are great for informational videos, ads, and website design PSAs.
Conclusion
The current design trend ruling the web and mobile sector is flat design. Although it is best known for increasing user experience, the flat design provides a number of additional advantages, including excellent readability, faster page loads, SEO advantages, etc. Industry powerhouses have adopted the flat design and taken use of these advantages.
If these advantages make sense to you and your company, you should only think about branding your website or app with a flat web design.
Also, if you are looking for a flat illustrations resource site that offers not only high-quality flat illustrations and other graphics but also cost-free flat illustrations images that can be used for commercial purposes, do have a look at the sites mentioned above. We hope reading the article was helpful for you in understanding the importance and benefits of flat design( i.e. also, uses of flat illustrations) and looking at the site as mentioned above, you were able to find the desired flat illustrations.