A while ago, all it took to be a great password manager was to keep your passwords in an encrypted vault. Now the best password managers give you the option to sync or keep them local only, change web passwords with a click, log in to sites for you, and more.
Below you can find the top 6 password manager tools:
1. LastPass Password Manager
LastPass is one of the most preferred password manager which keeps your information private, safe, secure and hidden. For Premium users, the pricing starts from $2/month (1 User) and for Family users, the price starts from $4/month (6 Users).
According to Wikipedia – "LastPass is a freemium password management service that stores encrypted passwords in private accounts. LastPass is standard with a web interface, but also includes plugins for many web browsers and apps for many smartphones."
Highlights –
For the 3rd year in a row, LastPass is a Champion of National Cyber Security Awareness Month, supporting the mission to make the Internet safer and more secure for everyone.
Comes up with Browser Addon and Desktop Application.
Easily accessible on all devices.
Support for Multi-Factor Authentication; more about MFA here.
1GB Encrypted File Storage for Premium users.
Priority Tech support.
Official Website – https://www.lastpass.com/
Follow on Twitter – https://twitter.com/LastPass
Like on Facebook – https://www.facebook.com/LastPass
2. 1Password
1Password is a password manager developed by AgileBits Inc. It provides a place for users to store various passwords, software licenses, and other sensitive information in a virtual vault that is locked with a PBKDF2-guarded master password.
For Normal Users, 1Password pricing starts from $2.99/month (1 User) and for Families, the price starts from $4.99/month (5 Users).
Highlights –
Available for Mac/Windows/iOS/Android.
1GB Storage.
Simulated with Advanced Encryption i.e. AES-256.
Travel Mode Feature.
Official Website – https://1password.com/
Follow on Twitter – https://twitter.com/1Password
Like on Facebook – https://www.facebook.com/1Password
3. Passpack Password Manager
Passpack is a secure way to manage and organize your passwords for both individuals and teams. Passpack is built on strong client side encryption, ensuring that your sensitive data is never accessible to anyone but you.
Passpack comes up with both Free and Paid Plans. The Premium plans are further divided into 4 categories.
Professional Plan starts from $18/year (Upto 1000 Passwords, 3 Users)
Group Plan starts from $48/year (Upto 1500 Passwords, 15 Users)
Team Plan starts from $144/year (Upto 2000 Passwords, 80 Users)
Business Plan starts from $480/year (Upto 10000 Passwords, 1000 Users)
Highlights –
Host proof Tool.
Generous Password limits.
2 Factor Authentication.
Easy Import/Export.
Unlimited outgoing sharing to a single connection
Official Website – https://www.passpack.com/
Follow on Twitter – https://www.twitter.com/passpack
Like on Facebook – https://www.facebook.com/passpack
4. KeePassX Password Manager
KeePassX is an application for people with extremly high demands on secure personal data management. It has a light interface, is cross platform and published under the terms of the GNU General Public License. KeePassX saves many different information e.g. user names, passwords, urls, attachments and comments in one single database.
For a better management user-defined titles and icons can be specified for each single entry. Furthermore the entries are sorted in groups, which are customizable as well. The integrated search function allows to search in a single group or the complete database. The latest version of KeePassX is 2.0.3.
Highlights –
AES/TwoFish Encrypted storage.
Extensive Search Function.
Automatic generation of secure passwords.
Operating system independent.
Quality indicator for chosen passwords.
Official Website – https://www.keepassx.org/
View on Github – https://github.com/keepassx/keepassx
5. Enpass Password Manager
Enpass is one of the most recommended password manager tool which is available for almost all platforms i.e. iPhone/iPad, Android, Windows, Mac OSX, Linux, Chromebook etc.
For both Desktop and Mobile users, Enpass password manager is FREE but there is another pro version available for Mobiles only whose price starts from $9.99/platform (Lifetime).
Highlights –
Multi cloud Sync.
Unlock with Fingerprint
Strong AES-256 Encryption.
Inbuilt Password Generator.
Official Website – https://www.enpass.io/
Follow on Twitter – https://twitter.com/EnpassApp
Like on Facebook – https://www.facebook.com/EnpassApp/
6. KeePass Password Safe
KeePass is another free open source password manager, which helps you to manage your passwords in a secure way. You can put all your passwords in one database, which is locked with one master key or a key file. So you only have to remember one single master password or select the key file to unlock the whole database. The databases are encrypted using the best and most secure encryption algorithms currently known (AES and Twofish).
The latest version of KeePass password safe is v2.38.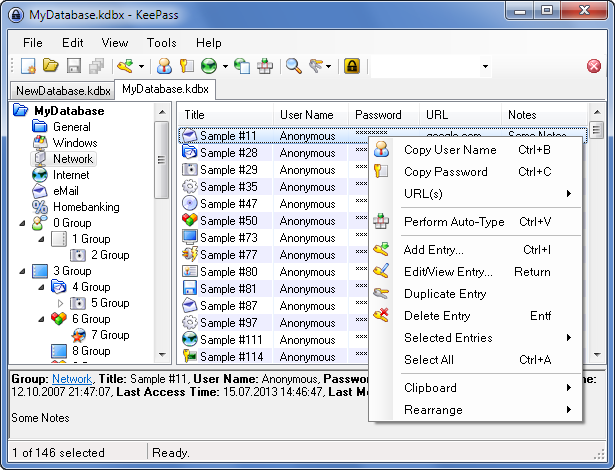 Highlights –
Multiple user keys.
Extensive Searching and Sorting support.
Strong random password generator.
Portable and no installation required.
Easy transferable.
Recommendations by the German Federal Office for Information Security.
Official Website – https://keepass.info/
Follow on Twitter – https://twitter.com/keepass