As you all knows Google is the most popular search engine. Even to check the connectivity of internet we always use Google.From Finding to Ranking, We use GOOGLE. Now Google Introduced two tools for better and fast crawling of your site or blog.
First Method needs site verification and Second method didn't need any kind of verification
1. Without Verification –
If you've just launched a new site or blog Let's say "www.yeahhub.com" and you already added some content or pages then you can ask GOOGLEBOT to find and crawl the site immediately rather than waiting naturally. Yes its only possible through GOOGLE CRAWL FORM
You can submit your URL as a limit of 50 Submissions per WEEK for individual URLs. You just need to fill the form i.e. Enter the website name and after that you've to fill the Captcha and hit the SUBMIT REQUEST button.
After submit, it will show you that your request has been received and will be processed shortly.
2. With Verification –
Well if you want to use some more features like SITEMAP Submission, Fetching, Site Indexing, Checking Crawling Errors etc, then you have to verify your site from GOOGLE WEBMASTER TOOLS
First you need to Add your site inside google webmaster tools like this
After that it will ask you  to verify your domain by some methods like –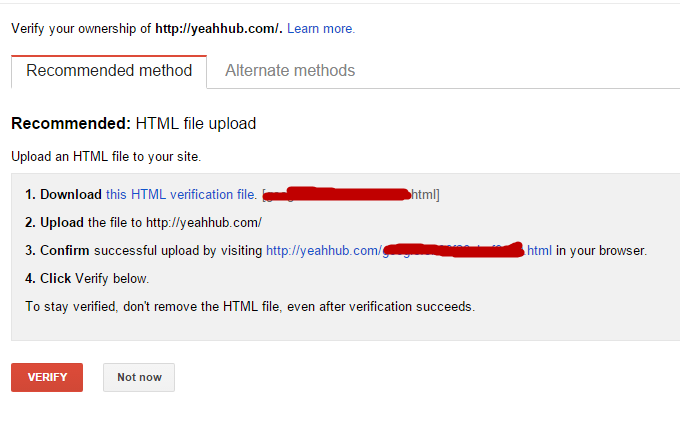 HTML File Upload Method (For this you need to upload one HTML file in root folder)
HTML Tag Method (You need to add one META Tag in your sit's Homepage)
Domain Name Provider Method (By adding TXT or CNAME Records)
Google Analytics (You can also verify with google analytics code)
Google Tag Manager (Using Container Snippet)
The most recommended method is "HTML File Upload Method"
After complete verification, it will look like this –
Now Next part is Crawling, You just need to go "Crawl" -> "Fetch as Google" like below
Here you just need to click on FETCH Button and again click on "SUBMIT to INDEX" and after that it will ask two things
1) Crawl only this URL
2) Crawl this URL and its direct Links
When submitting individual URLs, you have same QUOTA Limit i.e 50 URL Submissions per week.
And when you submit URLs with all linked pages then the limit is 10 Submissions per month.
And if you want to submit sitemap of your site then you can use "Submit Sitemap" option instead inside same Google Webmaster Tools
Google Webmaster Tools also provides so many features like "Robots.txt Verification", "Language Tag Detection", "Sitelink Building", "To check Crawling Errors related to Server Connectivity or Not found pages".
If you still need any help regarding anything then feel free to contact us at info@yeahhub.com or you can also post your problems to Google Webmaster Help Forum
Step by step hacking tutorials about wireless cracking, kali linux, metasploit, ethical hacking, seo tips and tricks, malware analysis and scanning.