Today we'll discuss about some cool and unsaturated methods through which you can generate some cash. These methods wont make you rich in 1 hour and we don't guarantee you will make crazy profit off these methods.
1st Method – Semi Auto Pilot –
Requirements –
a) Amazon Affiliate account
b) Craigslist list or Ebay
Step 1: Create an Amazon Affiliate account. This can be found on the amazon website or you can go here: https://affiliateprogram.amazon.com
Step 2: After you have made your account, log into it and navigate to the "Product linking" tab. Click on this, then click "Product links"
Step 3: Search up any product that you think people will buy or like to buy. For example you could look up "Xbox modded controller" because they are worth anywhere from $50 – $150.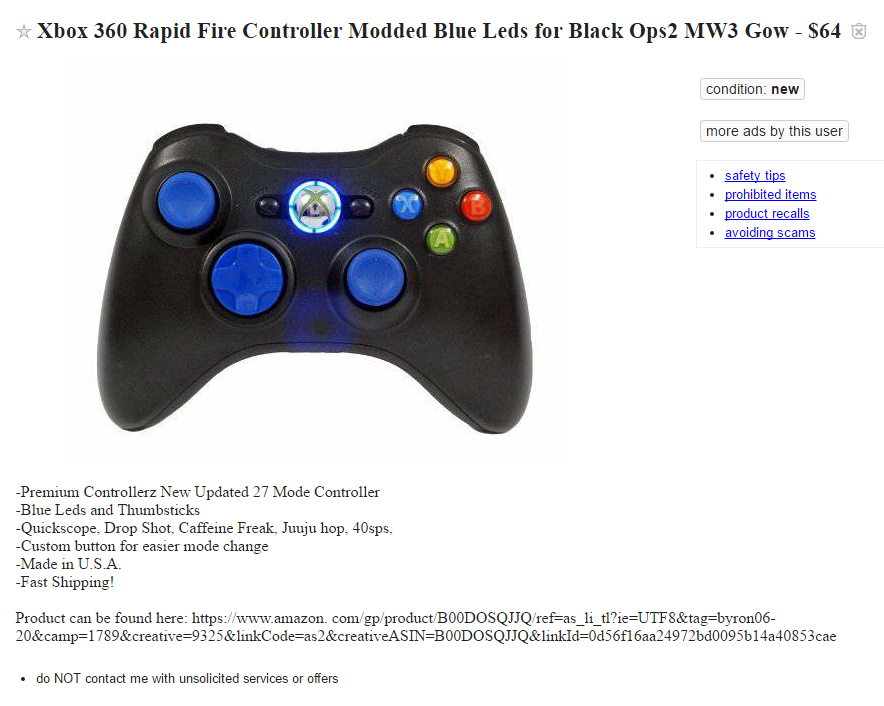 Step 4: Once you have selected a product to sell click on the "Get link" what this does is copy the link and when people click on it and buy the product you get a percentage of the money they pay for it with.
Now your probably thinking, "How are people going to click on this?" Well that's why we use website like Craigslist or Ebay Keep on reading my friend.
Step 5: Now make an eBay account or use Craigslist to get people to click on it. We do this by going to the product on Amazon, copy the link, save the pictures, copy the description of the product. and put it all on the post you make on eBay or Craigslist. DON'T spam it,just do this:
Step 6: Now when people see the post you made and click on the link they will be taken to the amazon page with the same product where they can buy it. and if they do you get a percentage of the money.
---
Notes –
* If you have a website that has a decent amount of users or shoppers you can display some Amazon ads on your own website. This is more likely to generate lots of income depending on the size of the site.
* You can put more then one post on eBay and Craigslist, choose different products and do different posts about them!
* After you make a post its Auto Pilot from there on. you just need to make new ads every couple of days to keep up with people in your area.
2nd Method – Auto Pilot
Requirements –
a) Decent size website/YouTube
b) Some spear time
Step 1: First we will need to sign up to some affiliate websites, there are many of these to chose from but here is one: seoclerks.com
Step 2: Find a product you would like to review on your website or YouTube channel and click on it, after you have ordered the product and reviewed it put the affiliate link you get when ordering in the description or at the bottom of your blog.
Step 3: If people buy it, Seoclerks can pay some nice $$ when they see that your affiliate link is making people buy the product you've reviewed or done a blog on.
---
Notes –
* If you did a video on it make sure that the video is appealing to people to watch, for example if your showing off a keyboard they sent you to review make sure that you give a honest and good review. People don't want to see a 1 minute video of it.
* If you did a blog of the product on your website, Again make sure it looks professional and clean. take some nice pictures of the product and make an honest write up about it.
Step by step hacking tutorials about wireless cracking, kali linux, metasploit, ethical hacking, seo tips and tricks, malware analysis and scanning.